Volvo 940 Estate
For Sale Volvo 940 Estate
Back to adverts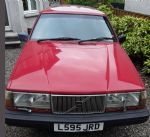 General

This Volvo 940 estate has been family owned since new, first by my brother up to about 50,000 miles, thereafter by myself & wife up to ~218,000 miles.

It has been the best value for money family car we ever had and served me for 15years + as a band vehicle for my former music activities.

It is no longer needed for family or band use and hence I did not MOT it and took it Statutory off-road earlier this year.


Condition and Known issues

The ABS light has behaved erratically from time to time. However a number of garages noted this at MOT time and tested the ABS on a rolling road: result no problem. My guess is that this is an electrical fault of some kind .e.g. some web sources suggest that the wheel sensors need cleaning. Also on the rare occasions that I have invoked ABS on e.g. ice, it has worked.

The original Volvo radio does not work.

Bodywork: The car has two 'dents' at/near wheel arches and the nearside wing (Figure 3 & 4) recently perforated with a corrosion hole (Figure 5).

The functioning of the boot-seat for young children was messed-up by an incompetent garage who did not know how to get the spare tyre out.

Some parts of plastic trim inside have become age-brittle and prone to crack under stress.

In 2016 I had to replace the driver's seat belt stalk to secure MOT.

Also in 2016, it had a new engine temperature probe.

There has been no need for engine work other than routine maintenance (oil/filters / belt changes).

It has had two alternators and one starter motor change and a radiator change.

A few years ago it had a number of new disc brakes and pads.

Location Scottish Highlands: Postcode PH20

Price This car does not owe us anything: any reasonable offer considered.
patrick.gallagher20@btinternet.com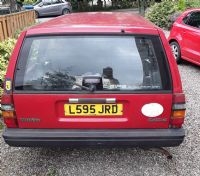 1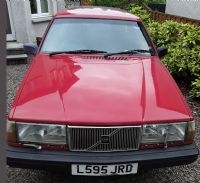 2
3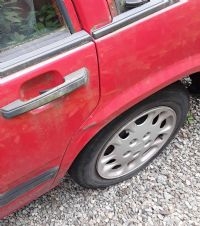 4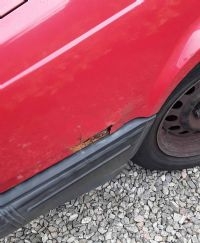 5