Volvo Enthusiasts Club at the Bristol Restoration Show 2014
Back to adverts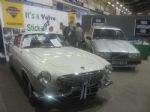 What a great Show!
What a great show this year's Bristol Restoration turned out to be, with record making attendances and excellent Club Stands, Trade Exhibitors and Autojumble.
The Volvo Enthusiasts Club once again took at stand at this end of season 'Bristol' event, with a themed display of 'It's at Volvo Stick-up (Pick-up)' complete with painted backdrop and featuring the unique 1986 Volvo 740 (Metherell) Pick-up, built by the late owner of Trelavour Road Garage, St Dennis, Cornwall in 1993, a recent acquisition to Kevin, our Club Founder Volvo 'Classic fleet', who had saved the vehicle from the Scrap Yard.
Joining the 740 Pick-up were Chris Tye's beautiful Dark Grey Metallic 1962 Jensen built Volvo P1800 and Kevin's, now famous TV Saint Car 71 DXC aka ST 1, which as awarded 'R/U Most interesting Vehicle'. 'Roger' was even joined for a brief time by ex Beatle 'Paul', who had spent the weekend helping on the Ford Classic Capri Club stand
There was lots of interest in the Club display and in particular the unique Volvo 740 Pick-up, with much discussion over the problems Kevin is having getting the vehicle registered by DVLA. Because of an oversight of the previous owner to change the vehicle from it's original specification of a 740 GLE Estate to a Pick-up in 1993, it has now had the vehicle's original Registration of D600 ODV pronounced 'VOID', thus it cannot be used on the road and will be allocated a 'Q' Reg following a VOSA inspection etc - What a great shame that bureaucracy has once again overtaken the interests of history and the DVLA and EU policy will help loose more of our 'classic vehicle' heritage!
Many thanks once again to Jim and Sean Skeet who made the whole Club stand possible, transporting the Pick-up and all the Club display materials down to Shepton Mallet - Many thanks, Jim & Sean, it was once again, much appreciated.
Once again, thanks to all those who came along to the show and to Josette, Nigel and all the organising team for putting on a fantastic Restoration Show. - It was great!!!
See you all again at Shepton Mallet for the 2015 Shows!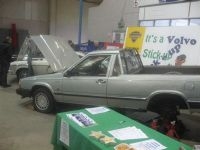 Bristol November 2014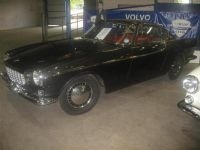 Chris Tye's 1962 Jensen built P1800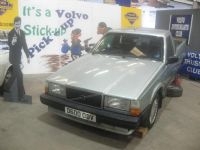 unique 1986 Volvo 740 Pick-up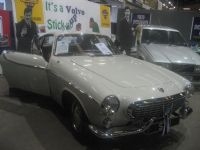 ST1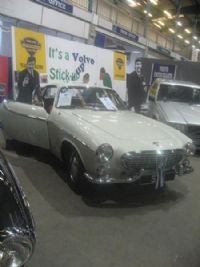 Bristol November 2014
Jensen built 1800's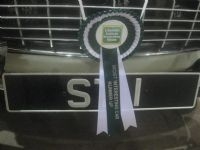 R/U Most interesting Vehicle'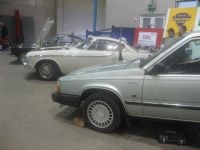 Bristol November 2014