Volvo coupe concept Frankfurt 2013
Hello you beauty!
Back to adverts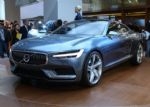 395bhp Volvo Concept Coupe coupe sets a new design direction for the company; inspired by Volvo P1800. Volvo has introduced its stunning Concept Coupe at the Frankfurt Motor Show, which calls upon its legendary P1800 as an influence.
Please follow the links to various motoring articles about the coupe with large pictures to download.
Autoblog>> Full screen size images>>