Colin Waudby's Endurance Rally Prepared 1968 Volvo 123GT
Back to adverts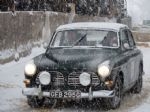 My car is a 123GT which we restored for endurance type rallies a couple of year ago. The B18 engine has been replaced with a B20 and big valve head, compression increased to 10:1; D Camshaft with lightened cam followers, tubular push rods (Iskendarien) and double valve springs; 8kg flywheel. Standard SU's, revised needles. 4-1 exhaust manifold and 2" bore exhaust. M41 gearbox with uprated D type overdrive. Low ratio diff with LSD. Suspension bushes are polybushes, heavier front anti-roll bar fitted and Bilstein shockers all round. The Road springs are standard but I'm about to replace these with linear uprated springs lowered by 25mm. The alternator has been rewound to give 75A output.
Rally Success – Our Congratulations to Colin Waudby
An update letter
..... I don't do many. But the rallies I do are typically HERO's reliability trials. I've done LEJOG each year since 2005 (in a Lancia Fulvia Coupe, Porsche 911 E and in the Amazon for the last 3 years). We'll be in this year's LEJOG too. Usually do Three Castles, but this year; instead I just finished the Summer Trial a couple of weeks ago; 3 day event based around Goodwood. We managed 1st in class, 6th overall and won silver medals. Good event despite the weather!
I mentioned I was changing the road springs- this I did in time for the Summer Trial. I fitted 25mm lowered, linear rate springs from Skandix: these are Swedish made. (Skandix is located about 10km from where I am working in Germany – a very impressive outfit, immaculate warehouse and very smart office – definitely a cut above.) The Car was much better: ride much improved, the car sat down much better and handled better too. With the heavier anti-roll bar and a bit of negative camber plus some tyre pressure tweaking, there was just a nice touch of understeer (standard size tyres on 5.5" Minilites)
Re Photo's of the car: The first & fourth are on LEJOG and are by Fracesco Rastrelli Fotografo.
Kind Regards Colin Waudby
(NOTE From Kevin: I know Scandix well - very professional, worth a look on their website www.skandix.com)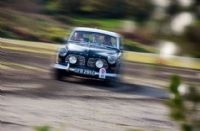 123GT on rally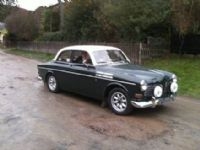 Colin Waudby in 123GT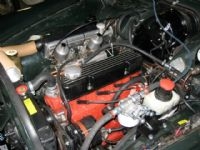 B20 and big valve head!
123GT
Colin at speed